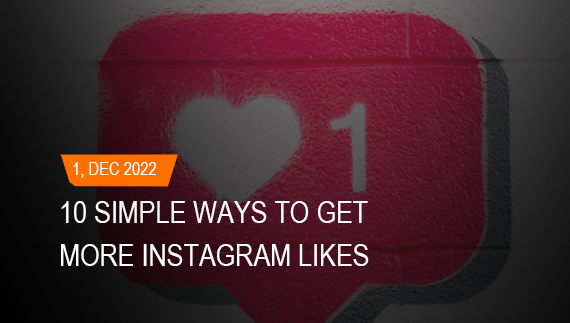 10 Simple Ways To Get More Instagram Likes
With so many social media platforms available, it's no wonder people are spending more time online and less time with actual people in the flesh. In fact, Facebook and Instagram are both among the top 10 most popular websites, and their user bases continue to grow rapidly each year! As you expand your business on these and other social media channels, you may notice that your account isn't getting as much engagement as you'd like it to have. Luckily, there are plenty of things you can do to increase your social media presence and make your online marketing campaigns more successful.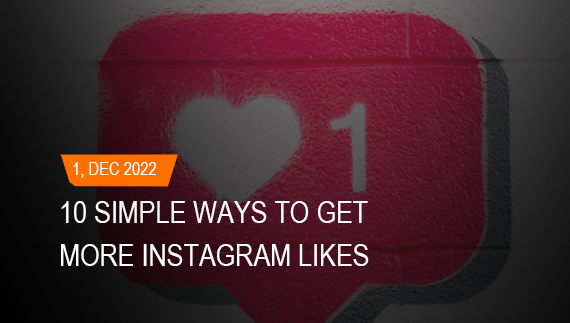 1) Use Popular Hashtags
Using popular hashtags on your Instagram posts is one of the simplest and most effective ways to get more likes on Instagram. Hashtags are a great way to make sure your post reaches the right people, as it will show up in searches for relevant terms. Before you add any hashtags to your post, take a few moments to research which hashtags are currently trending and which are most commonly used by the target audience you want to reach. Once you've identified a few good hashtags, you can add them to the caption of your post or in the comments section. Be sure to use an appropriate number of hashtags (around 8-10) that are relevant to the content of your post. By using popular hashtags, you'll be increasing the visibility of your post and making it easier for more people to find and like it.
2) Geotag Your Photos
Geotagging your photos on Instagram is one of the simplest and most effective ways to get more likes. When you geotag your photos, it makes it easier for people to find them, which can lead to more engagement and likes. Geotagging also allows potential followers to see what kind of places you like to visit, and can be a great way to connect with local businesses or other Instagram users in the area.
To add a geotag to your photo, simply type the location name into the search bar within Instagram. Once you have selected a location, click the checkmark to confirm. Your geotag will now appear on your photo, and anyone who clicks it will be able to see the exact location of your photo.
Not only does geotagging make it easier for users to find your photos, but it also adds context to your images. Showing the exact location of where a photo was taken can make it more interesting and provide more insight into the story behind it. Plus, adding a geotag helps to visually organize your photos and can help potential followers quickly browse through your feed.
Using geotags can help give your posts more visibility, as well as helping you to get more Instagram likes. So if you're looking for a simple way to increase your likes, try geotagging your photos!
3) Use The Right Filters
Filters can play an important role in getting more likes on Instagram. Choosing the right filter for your photo can make it look more aesthetically pleasing and draw attention to the image. You don't have to be a professional photographer or even have expensive equipment to create a great looking photo – the right filter can do wonders!
When selecting a filter, it's important to consider how it will affect the overall look of the image. If you're looking for a vibrant, high-contrast look, you might want to try out some of the stronger filters. If you want a softer, more subtle effect, try out one of the more muted filters. Play around with different ones until you find the one that best suits your photo and your desired aesthetic.
It's also helpful to consider what type of photo you're posting when deciding which filter to use. Are you posting a landscape shot? A portrait? A close-up of an object? There are filters designed specifically for each type of photo and can help draw attention to certain elements of the image. For example, if you're posting a portrait shot, using a filter that adds a bit of softness and warmth to the skin tones can really make the photo stand out.
Remember, there is no one-size-fits-all filter. Experiment with different options and see which ones work best for you!
4) Use A Call-To-Action
If you want to increase the number of likes you get on your Instagram posts, it's important to include a call-to-action (CTA). A CTA is a prompt or instruction that encourages users to take action, such as liking or commenting on your post.
When crafting a CTA, try to be as specific as possible. For example, rather than simply asking people to Like your post, ask them to Double tap to show your love or Tag someone who would love this. This will make it more likely for users to interact with your post.
It's also important to remember that people are more likely to engage with content that resonates with them. Be sure to craft CTAs that align with the content of your post and speak to your target audience.
Finally, consider adding visuals to your CTA to make it stand out. Try adding an eye-catching graphic or image that will draw users in and make them more likely to take action.
By using calls-to-action and taking the time to craft them correctly, you'll be able to increase the number of likes you receive on your Instagram posts.
5) Tag Other Users In Your Photos
One of the best ways to get more likes on Instagram is to tag other users in your photos. Tagging someone in your photo can help you get more visibility, as other people will be able to see who has been tagged in the post. This can be especially useful if the user you tag has a large following, as their followers will be able to see your photo and potentially give it more likes.
Tagging other users in your photos is easy, simply type @ followed by their username into the caption of your post. Then, when you share your post, the person will be automatically tagged in it. You can also manually tag someone by clicking on their profile in the post and then clicking Tag People.
It's important to make sure that you are only tagging people who are relevant to the content of your post. Otherwise, you might annoy people with irrelevant notifications. For example, if your post is about nature photography, try tagging people who specialize in that particular field.
When you're tagging people, try not to overwhelm them with multiple tags at once. While it's good to get as many people involved as possible, tagging too many people at once might be seen as spammy. Instead, focus on a few relevant users who have shown an interest in similar content or have an engaged following.
By tagging other users in your posts, you can increase the likelihood of getting more likes from their followers. It's also a great way to create relationships with other Instagram users and build up a community around your account. So make sure to use this technique whenever possible!
6) Run A Contest
Are you looking to get more likes on your Instagram posts? One great way to engage your audience and generate more likes is by running a contest. Contests are a great way to build excitement around your brand, get followers to interact with you, and encourage them to share your content with their friends.
There are many different types of contests that you can run on Instagram. Here are a few ideas to get you started:
7) Collaborate With Other Users
If you want to get more Instagram likes, one of the best ways is to collaborate with other users. By collaborating with other accounts, you can benefit from each other's audiences and get more exposure for your own content. Here are a few tips to get you started:
8) Post User-Generated Content
One of the best and simplest ways to get more Instagram likes is by utilizing user-generated content (UGC). UGC is content createIf you want to get more Instagram likes, one of the best ways is to collaborate with other users.d by everyday people—not necessarily by professionals or paid influencers. This content could be photos, videos, stories, or any other kind of visual media.
When you post UGC on your own Instagram account, you are showcasing content created by others and giving them a platform to be seen and heard. It also creates a connection with your followers and potential customers as they can identify with the content you're sharing.
Posting UGC is an effective way to increase engagement and give your followers something new and exciting to look at. To find great UGC to post, you can browse hashtag searches and start conversations with users whose content you think is especially engaging.
You can even go one step further by reposting content from other accounts or featuring specific users in stories and posts. Not only does this help you gain more likes, but it will also help you establish relationships with influential users who could help promote your brand.
By posting UGC, you are tapping into the power of user-generated content and leveraging it to reach new audiences and increase your Instagram likes.
9) Post At The Right Time
Instagram is a great way to connect with your followers, engage with potential customers, and increase brand awareness. But getting more likes on your posts can be a challenge. So how can you get more Instagram likes?
One of the best ways to increase the number of likes on your posts is to post at the right time. Knowing when your audience is most active and engaged can help you get more likes and interaction.
By targeting your posts for peak times, you are more likely to reach people who will be interested in your content and more likely to engage with it.
There are several methods to determine the best time to post on Instagram. First, look at your analytics and see when you receive the most engagement on your posts. You can also take a look at when other accounts that have similar audiences post their content and use this as an indicator of when your audience may be active. Additionally, if you have a business profile you can use Instagram Insights to gain insights into when your followers are online.
Once you've determined when your audience is most active, be sure to plan your posts accordingly. Posting at peak times will not only result in more likes but will also help you build relationships with new followers and create better content that resonates with your audience.
10) Analyze Your Results
If you want to ensure your Instagram posts get the maximum likes possible, it's important to regularly analyze your results. This means taking a look at the posts that do well and understanding why they work. You can do this by looking at the time of day when the post was made, the type of content used, and how you captioned the post.
Analyzing your Instagram results can also help you understand what type of content resonates most with your followers. Are they most likely to like posts with an interesting visual? Do they like more personal posts or ones that include funny captions? Answering these questions will help you plan your posts and tailor them to your audience.
Finally, analyzing your results can help you identify trends on Instagram and predict which content is likely to get more likes in the future. For instance, if you notice that your followers are liking photos more than videos, then you can adjust your content accordingly. Understanding your followers' preferences will help you maximize the number of likes each of your posts gets.
By taking the time to analyze your Instagram results, you can make sure that every post you create has the best chance of getting as many likes as possible.